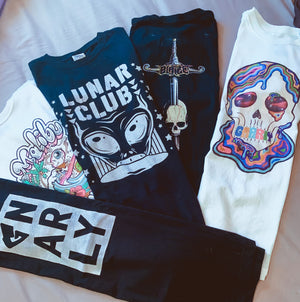 Print on Demand Premium Plan - Monthly
WELCOME YOU GNARLY ARTIST! You have found our PRINT ON DEMAND monthly subscription service! Let us tell you a little bit about what you can expect!
You will have access to our PRINT ON DEMAND services! No headache of having to keep inventory, just simply let people know where they can purchase your designs and make 35% of the profit generated from the sales, priority fulfillment and unlimited design hosting! We will also ship directly to your customer! SO EXCITING! Just contact us and we will get your designs switched out! You will have all of your designs on our 'Gnarly Artist' page along with all of our other GNARLY ARTISTS!
***PLEASE EMAIL US AT ———-> CONTACT@GNARLYGARB.ME <————- FOR A PERSONALIZED QUOTE WITH YOUR DESIGNS!***
If you need logo or design work, we can also help! Prices start at $75 per artwork piece.